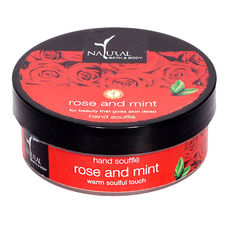 Hello Glamazons!
Today I will be reviewing, the Natural Bath & Body Co.s Rose and Mint Hand Souffle. I received it in my March, 2017 MSM Style Box.
I have the 50 gm tub which  retails for Rs.275/- only. "For the daily rigor that our hands go through they deserve the advanced treatment that Natural Bath & Body stimulating cream provides.
Enriched with fusion of organic and natural butters that protects and deeply hydrates the skin. It has a Soothing scent of freshly plucked Rose petals and a hint of garden Mint is pure decadence." ( Nykaa.com)
Let me start with the scent. It reminded me of a face mask of a cheap beauty parlor.
Frankly, I was expecting something a little more exotic. Though I have to say I love the color and texture of this product.
The packaging could be a little more "rose-y". They have been stingy with the roses.
This product also claims to be an effective, heavy hand cream/souffle (explains the light texture) that softens dry skin, chapped cuticles and callused heels. Its enriched with the goodness of rose petals and fresh mint.
Its summers here now and I have been using a lot of this cream and I have found that it not only protects the skin from dryness, but also nourishes and deeply hydrates the skin. This product is also paraben free.
I was looking up parabens and their effects on the skin and here's some information. Parabens can cause allergic reactions and breast cancer.
I was reading up a bit about this brand and came to know that Natural Bath & Body makes a wide range of unique organic skin care, bath and body products. Their products are manufactured using only "natural essential oils and botanical extracts and are a perfect blend of ancient Ayurvedic concepts, modern technology and creativity.
All their products are made with high quality, exotic ingredients, superior hygiene standards and are absolutely safe to use."
How to use Rose& Mint Hand Souffle : 
Smooth over hands after washing. Use as often as required.
And that's my review!
Love,
YLT
PS: Want to try out this hand souffle? Purchase it by clicking on: